Product Description
BABY K'TAN 3-IN-1 BUNDLE
———————————————————–
Baby K'tan Baby Carrier
Select from a choice of the Breeze, Active or Print range of Baby K'tan Baby Carriers.
The Baby K'tan Baby Carrier is a wrap-style carrier without all of the wrapping. Sized to fit wearer, the Baby K'tan Baby Carrier slips on easily like a t-shirt to comfortably carry baby from newborn to toddlerhood. Its patented double-loop design is lightweight and compact like a sling, yet supportive like a structured carrier, and can be rotated to place either the cotton or mesh in front depending on your comfort.
– Ergonomic positioning for healthy infant development.
– Evenly distributes weight across back and shoulders.
– Double-loop design slips on like a t-shirt.
The Baby K'tan ACTIVE is made of a breathable hi-tech performance fabric that wicks away moisture and sweat, blocks over 90% of the sun's harmful UVA and UVB rays, and provides a unique temperature control.
The Baby K'tan BREEZE Baby Carrier is made of a unique cotton-mesh construction that provides added breathability. Each loop is made of half cotton mesh and half solid cotton. The loops can be rotated to place the mesh in front or back.
The Baby K'tan PRINT is made of a 100% natural cotton patterned with beautiful vibrant prints and is buttery soft to touch. The carrier's unique one-way stretch and soft fabric offer you and your little a wonderfully cozy hold.
———————————————————–
Newborn Swaddle & Toddler Blanket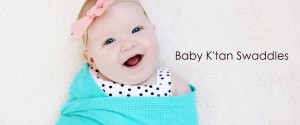 Made of an innovative breathable stretch fabric, the Baby K'tan® Newborn Swaddle & Toddler blanket provides continuous airflow so that baby doesn't overheat while sleeping. As your little one grows, this generous 42″ x 42″ swaddles can continue to be used as the perfect sized toddler blanket, nursing cover and so much more.
Teal and Charcoal 2-pack
Chemical-free, azo-dye-free, formaldehyde free
———————————————————–
Diaper Bag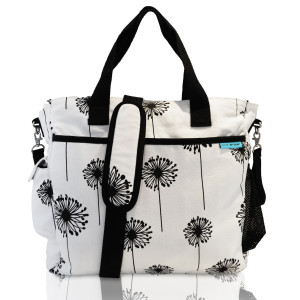 The Baby K'tan Diaper Bag is a practical and stylish bag that will see you through years of use!
The Baby K'tan Diaper Bag is the only diaper bag to feature a built-in wet bag made with an anti-microbial lining. The pocket is resistant against the growth of germs and odor-causing bacteria, so parents can toss messy baby clothes, stinky diapers or even sweaty workout clothes into this stylish, on-the-go bag!
Reusable, fashionable, eco-practical
Perfect for cloth diapering, trips to the beach or pool, any mom/baby essentials when on-the-go
Machine washable!