Product Description
Mini Monkey Mesh Sling
The smallest and lightest baby carrier in the world.
Go places with your Minimonkey
Minimonkey is so compact you can easily take it along in your handbag or day-pack. Its lightweight mesh construction makes it a wonderful baby carrier for bringing your baby to the pool, beach, or water playground! With sunblock slathered over baby's skin, sometimes they can be really slippery to hold onto in the water! Easily overcome that problem by using the Minimonkey! The carrier, with its extra safety straps, keeps baby secure and close! Especially helpful if you have older children you need to look after as well!
Minimonkey is really handy even for showering with baby after all that water play! A baby bathtub isn't always available after a swim, and baby may not yet be able to stand steadily. Add soap & shampoo to the mix, and baby becomes a slippery challenge even for a seasoned parent! Wear baby when bathing her, and you'll avoid any nasty slips and accidents!
After use, just rinse off the Minimonkey and put it in the sun to dry! Easy!
(Source:
Featured video on Minimonkey website – https://www.minimonkey.com/en/minis/mini-sling/
Edited original video from mamiblock channel: https://youtu.be/Uf8_42jJI18?t=172)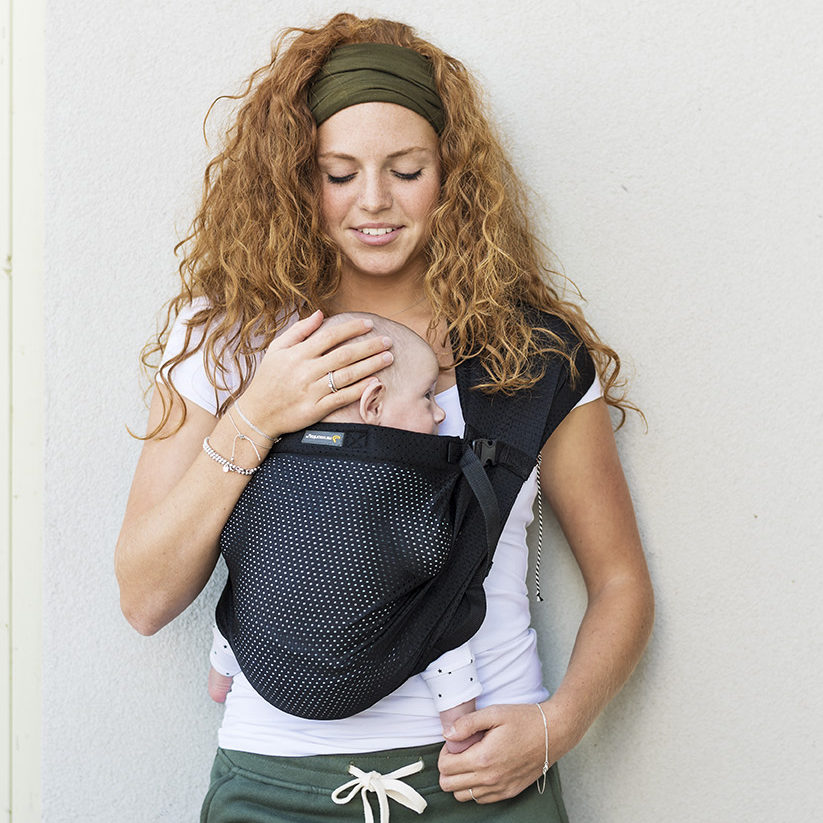 The Mini Sling
This baby carrier is so small and light that you will always have it with you. It is extremely compact and weighs as much as a mobile phone (175 gr). The lovely airy Mini Sling allows you to ergonomically carry your baby – directly from birth, and it is very quick and easy to use.
0 – 2 years (max. 15kg ~ 33lbs)
One size fits all
Safe: compliant with all EU safety norms
Washable at 40º (in a wash bag and at low RPM)
Material: mesh fabric (light-weight polyester fabric with small holes)
Waterproof – perfect for use in the shower, at the pool, on the beach…
Super quick and easy – as long as you follow the instructions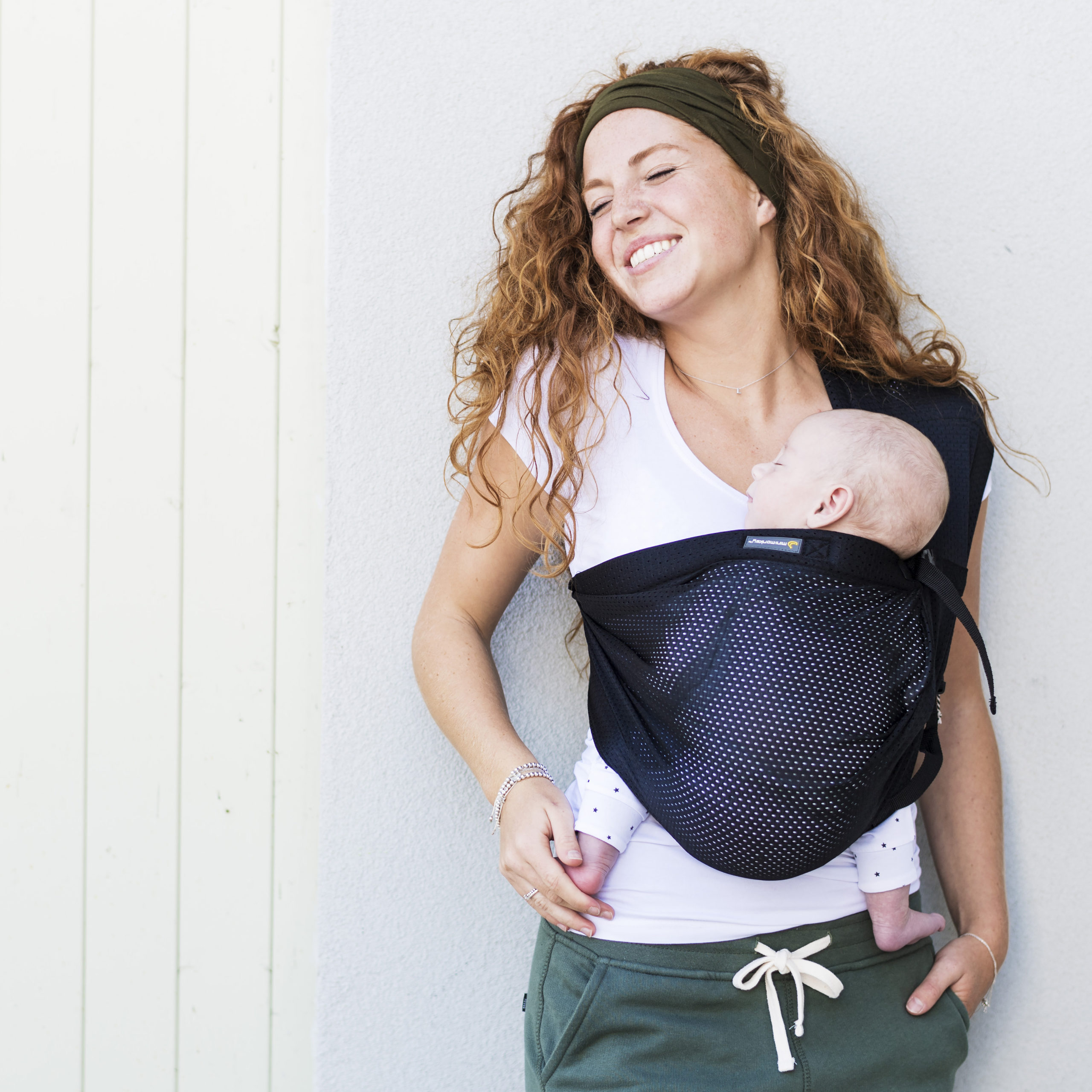 Ergonomic & Safe
You carry your baby straight against your body, with its head on your chest. Its bottom is low and its upper legs are spread and high; in the M-position or 'frog position'. This ergonomic method of carrying is recommended by paediatricians as it supports babies' hip development.
A newborn's legs are still close together. As your child grows, its legs spread and eventually you will be able to carry it on your hip (instead of against your chest). Especially curious toddlers enjoy being carried on the hip as it allows for excellent views all around!
The Mini Sling has a safety loop. It stops the fabric sliding off your baby's bottom, preventing your baby coming out of the sling unexpectedly. This loop is not meant for carrying your baby; it hangs loose when your baby is resting its bottom in the sling, but prevents your baby falling out in case it overstretches.
Although you can carry your baby in the Mini Sling for hours, it is primarily intended for when you need to carry your child quickly and for shorter lengths of time.
❤️ your smile makes us happy ❤️
INSTRUCTION VIDEOS
This is how you use the Mini Sling
Specifications

Weight 0.18 kg
Dimensions 10 × 8 × 16 cm
0 – 2 years (newborn to max. 15kgs)
One size fits all
Safe: compliant with all EU safety norms
Washable at 40º (in a wash bag and at low RPM)
Material: mesh fabric (light-weight polyester fabric with small holes)

You carry your baby straight against your body, with its head on your chest. Its bottom is low and its upper legs are spread and high; in the M-position or 'frog position'. This ergonomic method of carrying is recommended by paediatricians as it supports babies' hip development.
A newborn's legs are still close together (see picture below left diagram). As your child grows, its legs spread and eventually you will be able to carry it on your hip (instead of against your chest, see below right diagram). Especially curious toddlers enjoy being carried on the hip as it allows for excellent views all around!

| | |
| --- | --- |
| | The Mini Sling's shoulder piece contains a sewn-in pouch that allows you to fold the sling into a tiny 14 x 8 x 8 cm package; making it even easier to carry along! |
| | Spreading the shoulder piece over your shoulder/upper arm makes for stable and comfortable wearing. |
| | The top of the Mini Sling's back panel has an adjustable clip (yellow in the photo) that you can tighten or loosen to provide excellent head and neck support for your baby. |
| | The Mini Sling has a safety loop (indicated by the green asterisk in the illustration). It stops the fabric sliding off your baby's bottom, preventing your baby coming out of the sling unexpectedly. This loop is not meant for carrying your baby; it hangs loose when your baby is resting its bottom in the sling, but prevents your baby falling out in case it overstretches. |
| | The Mini Sling's design ensures your baby sits in it ergonomically. The back is in its natural curve and the fabric covers the baby from knee cavity to knee cavity. Your child sits comfortably in a deep spread/crouch position, the so-called M-position. A newborn has its legs closer together, and as your child gets older, its legs spread out more. |
| | The Mini Sling's neck trim contains soft padding that gives your baby comfortable neck support. |
| | The Mini Sling has an adjustable back strap. This strap can easily be lengthened or shortened, allowing a snug fit for both smaller and larger carriers → one size fits all. |
| | The Mini Sling is made out of mesh, making it super light and 'waterproof'. When the fabric gets wet, it dries within half an hour. This makes the Mini Sling the ideal baby carrier to use in the shower, on the beach or at the pool. As well as being waterproof, it is light and airy due to its many holes, making the sling perfect for hot days. In short, the perfect choice for when you are travelling with your 'little monkey'! |

Ensure good support

The baby will be sufficiently supported if you carry him in the carrier properly and it therefore won't be necessary to also support your baby with your hand. A (newborn) baby can't yet support his own head, which is why it's important for both the head and the back to be fully supported by the carrier and that the fabric is folded tightly across the back. It's also the intention for babies to be seated in the sling in a nice M-position.

If you feel like your baby isn't quite supported enough yet and you are still supporting him with your hand(s) too, then the carrier isn't yet correctly in place. You can solve this by:

Wearing the baby higher and tighter (tip 2).
Ensuring the top edge is horizontal (tip 3).
Spreading the fabric over your shoulder (zie tip 4).
Ensuring the baby is carried in the M-position
Fasten the clip on the top edge of the back panel and tighten.
Tightening the fabric around the back

FAQ & Tips

TOP TIP: Wear the sling high!

Experience has taught that users tend to wear the Mini Sling too low and too loose. Therefore our advice is: wear the sling high, with your baby's head against your sternum and its body snugly against yours! By tightening the black strap on your back, you raise the baby higher, ensuring the proper support for its neck and back. You are carrying the Mini Sling at the correct height if you can easily kiss your baby on its little head.

A. Support your baby's head

A newborn baby cannot yet lift its own head, so you have to make sure it is properly supported at all times. If you feel you still need to support your baby's head with your hand, the sling has not yet been correctly adjusted. You can solve this by:

Tightening the strap on your back, bringing the Mini Sling higher and tighter against your body. See also our 'Top Tip: Wear your Mini Sling high'.
Ensuring the top edge is horizontal so your baby's head cannot tilt to one side. See also 'Tip B. Prevent your baby hanging lopsidedly'.
Closing or tightening the little clip on top of the back panel until the fabric supports your baby's neck properly (as shown in the image below).

B. Prevent hanging lopsided

If your baby starts hanging lopsidedly, or its head falls to one side, it is almost always because the sling hasn't been put on or adjusted correctly.

Ensure the top edge of the Mini Sling is horizontal and the shoulder piece is spread over your shoulder and upper arm; this way the baby hangs straight against your body. You achieve this by spreading the shoulder piece over one shoulder, and putting the sling underneath your other arm, before placing your child inside. The little clip on the side of the shoulder piece has to be level with the sling's top end on the opposite side (indicated by the arrows in the illustration below).

If your baby is in the sling and it's still a little lopsided, you can slightly twist the Mini Sling and tighten the strap on your back a little (as shown below).

C. On which shoulder?

The Mini Sling's shoulder piece is designed to fit comfortably on your shoulder joint. The sling is suitable for wearing on either shoulder. Don't know which shoulder to pick? Choose the side you normally carry your (hand) bag on as that will feel the most natural to you. Ensure the shoulder piece is spread out properly over your shoulder and upper arm, to prevent your baby from hanging to one side. The large black extendable strap should be on your back.

On the picture below the shoulder piece hangs far too low. By tightening the black strap on your back, you can you raise the sling to the proper hight. Before you put the baby in, make sure the sling has the shape of a 'bowl' and hangs on both sides underneath your armpits (see picture bottom right).

D. Is the sling waterproof?

The Mini Sling is not water tight, but it is waterproof, so you can get it wet. And once wet, it dries again within 30 minutes. This makes it the ideal baby carrier to use in the shower, on the beach or at the pool. The sling is made out of a mesh fabric, so as well as being waterproof, it is very light and airy, making it ideal for warm days. In short, the Mini Sling is a must-have if you take your 'little monkey' on a trip!

E. Is the baby overstretching?

Your baby is meant to sit in the Mini Sling in a nice M-position, with its bottom resting in the sling and its upper legs supported by the fabric. The bottom should be lower than the upper legs.

If your baby isn't used to being carried in a sling, it might try to overstretch when placed in the Mini Sling for the first time. It will stretch its legs instead of sitting on its bottom (see illustration below), the fabric isn't smooth over your baby's back and oftentimes there's a lot of crying (from your baby).

This is because your baby does not yet feel safe in the sling.

Thankfully, this is easily fixed by making your baby feel it is supported by the sling and cannot fall out. Here's how you do this:

Make sure your baby is completely relaxed when you place it in the sling for the first time (for instance just after nap time and a feed and nappy change).
Hang your baby in the carrier without pulling the fabric up just yet (see diagram A below). Your baby's bottom should be lower than its upper legs. Your baby feels the support of the sling in its knee cavities, allowing it to relax and reducing its tendency to overstretch. Only pull the fabric up once your baby is completely supported
Once you have pulled the fabric up and your baby is totally supported by the carrier, you can grab its lower legs and 'turn' them up towards your belly. This allows your baby to relax even further (see diagram B below). Baby's back is round and fits snugly in the sling. You may have to repeat this step a few times until your baby is fully relaxed.

| | |
| --- | --- |
| Diagram A | Diagram B |
| | |

F. When do you use the sling?

The Mini Sling is the ideal carrier to always have with you. It is so small and light, you will barely notice it's in your bag at all! Moreover, it is super easy to put on – once you have mastered the instructions of course. It is suitable for use for a newborn as well as a toddler (max. 15 kgs) and its airy fabric makes it especially suitable for warm days. You can get it wet and it dries quickly, which makes it ideal for use under the shower, at the pool or on the beach.

The Mini Sling is perfect for travelling, around the house, the 'I wish I brought a baby carrier' and the 'let's quickly' moments…

On the go: If you're travelling with your baby, or you are out and about, there's a thousand things you need to bring; clothes, food, nappies, sunscreen, you name it… So it's very convenient if you can stuff a baby carrier in your bag that doesn't take up much room, is light and airy and can get wet to boot!

The 'I wish I brought a baby carrier' moments: You are out and about with your baby in its stroller, and the inevitable happens: the stroller can't get into the shop, you need to take the stairs to another floor, you need to hand over the stroller to board your plane, etc. Or, your 'little monkey' simply refuses to sit down… All these situations make it necessary for you to carry your baby. How wonderful to just dig into your bag and take out the Mini Sling!

Let's quickly: Let's quickly go to day care, school or the shops. Quickly going to and from the car. A quick trip up the stairs or down the post office. Let's quickly take the dog for a walk… Let's quickly get out the Mini Sling!

At home – hands-free: As well as being super convenient for use outside the house, the Mini Sling is a champion at home too! At those moments when your baby's a bit fussy and wants to be close to you, you quickly put it in the sling. You'll have your baby close and comfortable, while still having your hands free.

G. Maximum carrying time?

Although you can carry your baby in the Mini Sling for hours, it is primarily intended for when you need to carry your child quickly and for shorter lengths of time. Since you carry your baby's weight on one shoulder, it can become quite strenuous, especially with older children (compare a backpack to a shoulder bag). So if you're looking for a carrier to carry a larger child for an extended period of time, we recommend you choose the Dynamic Baby Carrier (sold separately, not included) instead.

H. How does the sling work?

To see how the Mini Sling works, we strongly recommend you watch the instruction video (above) first.

Tips for practising:

Practise with someone else a few times.
Practise when your baby is relaxed (for instance after nap time, a feed and a nappy change).
Practise with a doll and in front of a mirror.

Below you find the written instructions: