Product Description
A new look, every time
Introducing – The Tangram Tee! An innovative T-shirt that allows kids to form different patterns on the shirt as often as they like. Each shirt comes with seven reusable shapes that form the Tangram and there are well over 6,500 patterns documented to date. That works out to a unique pattern on the T-shirt every day for 17 years! Fabricate offers the Tangram shapes and T-shirts in various colours too. That means more creative options for them to showcase their ideas and the possibilities are practically endless.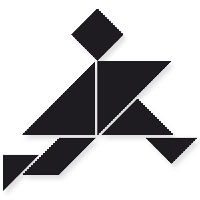 Look Mum! It's a tee. No, it's a toy. No, it's a tool.
Some see it as just a fancy piece of clothing to wear, others see it as a toy for their children to have fun with on the move. Both are valid, but Fabricate sees it as something much more. They see it as a tool that encourages personal development in numerous aspects of a child.
Cognitive skills

The process of selecting the right piece and putting a Tangram puzzle together improves a child's problem solving and reasoning skills. It helps them to see whole-part relationships and increases their visual and spatial awareness as they manipulate each piece to see if it fits.

Hand-eye coordination

While positioning shapes alongside other pieces, children practice hand-eye coordination and hone their fine motor skills. It is especially challenging when they want to complete a puzzle without any gaps between pieces. Using a wrong piece will result in a strange looking puzzle and they have to try all over again. This repeated trial and error helps them enhance their hand-eye coordination over time.

Self confidence

Children get a sense of satisfaction when they successfully complete  a puzzle. Their self confidence increases with each successful attempt. Over time, they may encounter some Tangram puzzles that are hard to solve, but with the proper support and encouragement, they can learn that success does not always come easily, and to deal with their frustration by learning patience and perseverance.

Creativity

Once children are familiar with the Tangram Tee, they will eventually use their imagination to express their ideas and feelings with the T-shirt. This cyclic process of ideation involves adaptability and flexibility of thought due to the limited number of pieces, shapes or colours on hand. Given the proper environment, children can significantly enhance the development of their creativity and to think out of the box which will be critical in later stages of life.
Learning Resources
The best part about the Tangram Tee is the online learning resources that come with it and it is all FREE! This includes activity sheets, teaching guides and fun-filled challenges for kids. Fabricate will be adding new content as fast as they can, so keep an eye out for it or just subscribe to their Facebook account. Find out more about how the Tangram Tee can be used with some teaching materials over at Fabricate's Education section.
Wash and care
Please take note of the following instructions to extend the shelf life of your purchase
| | |
| --- | --- |
| | Remove all appliques from the t-shirt before wash |
| | Hand Wash, Cold – For the first 3 washes, turn the t-shirt inside out and hand wash to remove as much of the embroidery paper* as possible |
| | Machine Wash, Cold, Gentle – For subsequent washes, turn t-shirt inside out and place inside delicates wash bag before placing into washing machine |
| | Do Not Wring |
| | Drip Dry – For best results, drip dry the t-shirt |
| | Tumble Dry, Normal |
| | Do Not Bleach |
| | Do Not Dry Clean |
| | Iron, Low Heat – Do not iron on the soft-loop strips on the front of the t-shirt. |
| | *Applies to coloured t-shirts only |
How do I determine the right size for the Tangram Tee?
Easy peasy! First get your hands on  a tape measure or ruler, then measure the width of the chest. Take note of this number and next measure the height, starting from the shoulder downwards. Alternatively you can also measure a favourite t-shirt. Figure out the right size by making sure that your two numbers are SMALLER than the sizing chart below.
| | | | | | | |
| --- | --- | --- | --- | --- | --- | --- |
| Sizing | Small | | Medium | | Large | |
| Width(cm/inches) | 33 | 13.00 | | 35 | 13.78 | | 37 | 14.56 | |
| Height(cm/inches) | 42 | 16.53 | | 44 | 17.32 | | 46 | 18.11 | |